DIY photo booth for your Galentine's Day party
31 January 2019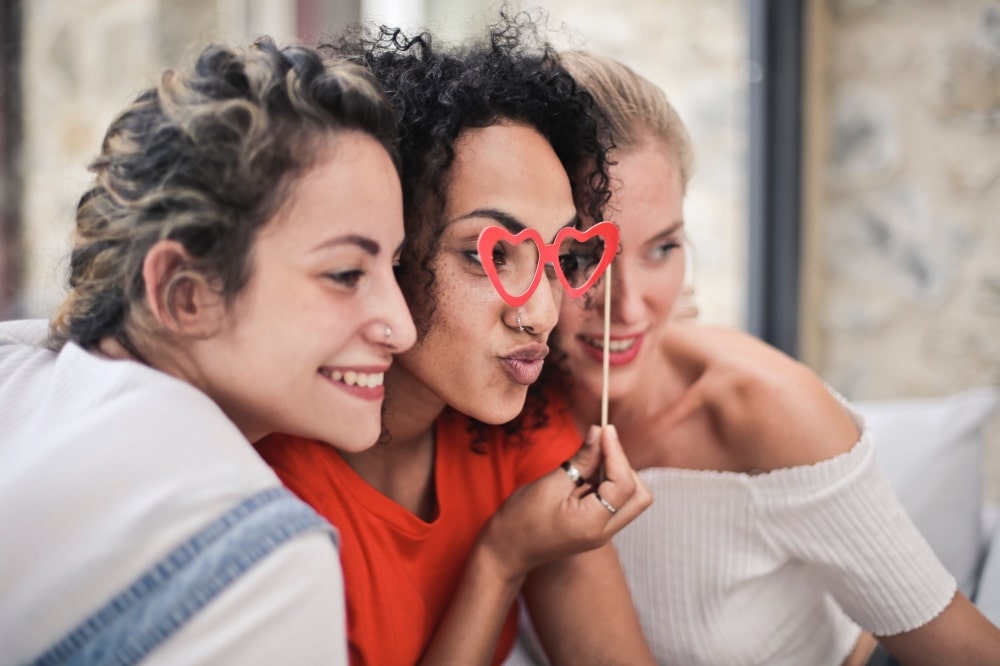 If you haven't heard already, Galentine's Day is the greatest day of the year. Held the day before Valentine's Day, the micro-holiday celebrates the love you have for all the amazing female friends in your life. Because why wouldn't we want a reason to celebrate that?
This kind of celebration calls for the best party one can have, and what party isn't complete without a photo booth? Capture the best moments of the day in style with our simple tips for creating a DIY photo booth.
1. Create a backdrop
To ensure all your photos follow a theme, a suitable backdrop is needed. Whether you like the look of a blank wall or prefer a tinsel curtain or piece of patterned fabric taped to it, find something simple that doesn't steal attention away from the focus point of the photo, which is you and your gal pals of course. Whatever you choose to create, make sure your backdrop is big enough to frame your photo. You don't want any awkward points in the corner of your photos where your wall cut out or your curtain didn't quite reach.
2. Provide lots of light
Make sure your photo booth area is somewhere well lit, such as a bright room, a partitioned off area, or even outside if you can. You can bring in lamps or just rely on the natural light coming in from the window, but make sure lots of light is leaking through. This will save time fiddling with camera or phone settings and editing your photos afterwards for hours on end. Plus, your photos will look so much more professional and Instagram-worthy.
3. Use props
To make your photos more unique and fun, provide a variety of props that your guests can use to personalize their shots. Grab some oversized sunglasses, fashion jewelry and funny hats.
4. Share with a hashtag
Whether your guests are using their own devices to take photos or you have your phone or camera set up on a tripod, you're going to want to share your photo booth masterpieces around. By creating your own hashtag, your friends on social media will be able to see all your photos from the day in one place and share them with ease.
5. Save your memories
Although social media is great, there really is no better way to save your memories than by printing them and creating a keepsake album. Printicular offers multiple sizes to ensure all your best photos are getting admired the way they deserve. With same-day delivery or pickup, you don't need to wait to give your friends their own special copies. Spread the memory of your amazing celebration with ease!
Printing photos is just as easy as this DIY photo booth!
1. Visit printicular.com
2. Upload your photos and select your required print sizes.
3. We'll send your order to your selected Walgreens store and they'll have your prints ready to be picked up on the very same day.